Summer movie blockbuster time is here! Tom Cruise and "Mission: Impossible – Dead Reckoning Part One," the seventh in the film franchise running since 1996, took over Rome for its premiere, while Harrison Ford, George Lucas, Steven Spielberg and John Williams celebrated "Indiana Jones and the Dial of Destiny" in Hollywood — and not one of those Tinseltown OG's used a walker to get around! In New York, Katie Holmes and Mick Jagger danced into the ABT ballet gala, and director Wes Anderson brought a horde of A-list stars to his "Asteroid City" premiere. The writers are still on strike, but everyone who's anyone is traveling the world this summer to promote something!
"Mission: Impossible – Dead Reckoning Part One"
The Spanish Steps, Rome
It was a gorgeous day on the Spanish Steps in La Bella Roma, as Paramount Pictures got rid of the mobs of summer tourists usually found here and rolled a red carpet all the way down the 135-step staircase to celebrate the global premiere of "Mission: Impossible – Dead Reeckoning Part One."
Of course Tom Cruise was front and center, as he's the now 60-year-old face of the franchise that he began when he was 35; this one is the seventh in the series, and as usual is also filled with beautiful, much younger women. They were all in Rome, too, including Rebecca Ferguson (39), who is a veteran of the "M:I" flicks, as is Vanessa Kirby (35), along with franchise newcomers Hayley Atwell (41), Pom Klementieff (37) and Mariela Garriga (34).
Our favorite Farmboy, Cary Elwes, also stars (he's 60 too, if you were wondering) and joined the glitzy celebration, as did the flick's other male co-stars Simon Pegg, Esai Morales, Henry Cznery and Shea Whigham, along with writer/director Christopher McQuarrie. And the first reviews from the premiere screening are in, and if those are an indicator, Cruise the sexagenarian has another big action hit on his hands.
"Asteroid City" Special Screening and U.S. Premiere
Alamo Drafthouse; Alice Tully Hall and Sardi's, New York
The "Asteroid City" premiere hit New York City like a meteor itself with a two-day takeover. The festivities kicked off at Manhattan's Alamo Drafthouse Theater with a special screening, where guests posed for "Asteroid City"-themed photo ops in set-ups that transported them into director Wes Anderson's quirky world. Anderson and star Jason Schwartzman joined the happy crowd (all clutching their fabulous "Asteroid City"-themed lunch boxes) in the theater for a quick chat.
Anderson, a University of Texas Austin alum, reflected on his long-standing partnership with Austin-founded theater chain. "Owen Wilson was my roommate, my one friend I made there," said Anderson. "I wouldn't be making movies if it wasn't for the time we spent together there."
The following evening, Anderson and Schwartzman celebrated the U.S. premiere of the film at Lincoln Center's Alice Tully Hall alongside a who's who of the stars Anderson recruited for the comedy: Scarlett Johansson, Bryan Cranston, Tom Hanks, Margot Robbie, Adrien Brody, Maya Hawke, Bill Murray, Rita Wilson, Jeff Goldblum and more.
After the screening, guests and VIPs hopped on buses and tried to make their way to the after party at Sardi's. However, everyone's excitement to celebrate was harshed by the city traffic. That's when Sofia Coppola decided to make the bus driver stop and we all walked the final blocks to the legendary NYC restaurant.
The inside of Sardi's read like "Asteroid City," as a play within a film. Look to stage right: Margot Robbie and husband Tom Ackerley, Tom and Rita Hanks, "Barbie" director Greta Gerwig and partner Noah Baumbach all giggle in a group. Stage left: Ethan Hawke – who came out to support daughter Maya – chats with Bill Murray. Meanwhile, center stage, Scarlett Johansson wistfully makes her entrance holding hands with husband Colin Jost, as Adrien Brody grabs his mother's hand and walks her through the chaos. It was a mind-boggling set of scenes, for certain.
"If you get an email from Wes Anderson asking you to film in Spain, you go," star Jake Ryan told us. And it seems like everyone in the room is awaiting the next email, based on the turnout of the evening. – Emily Vogel
"Indiana Jones and the Dial of Destiny" U.S. Premiere
Dolby Theatre, Hollywood
The "Indiana Jones and The Dial of Destiny" premiere descended into the heart of Hollywood to the delight of fans, many of whom were all dressed in their best Indy-inspired attire. And they were not disappointed, as composer John Williams led an orchestra in his created for the five films while five-time producers George Lucas, Frank Marshall and Steven Spielberg happily looked on.
Harrison Ford was all smiles as he shared his heartfelt praises for Spielberg, who for the first time in the series was not behind the director's chair (James Mangold helmed this final chapter in the storied franchise).
Ford expressed his admiration of the Hollywood legend, saying, "Steven has brought so much to the world of filmmaking, his presence was felt every day on set."
Ford's costar Olivier Richters (he's 7'2") towered above the rest of the cast on the red carpet, as he joined Karen Allen, Phoebe Waller-Bridge, Mads Mikkelsen, Thomas Kretschmann and Toby Jones in the celebration.
Jones might have revealed another project in the works to us, expressing his enthusiasm for the potential "Harry Potter" TV series. Jones playfully remarked, "I would absolutely play Dobby in the 'Harry Potter' TV series!" adding that fans should "push for it, vote for it!"  – Elijah Gil
"Secret Invasion" Launch Event
El Capitan Theatre, Hollywood
The "Secret Invasion" launch event at the El Capitan Theatre in Hollywood was a dazzling affair, as the Marvel Universe brought out their Oscar-winning and nominated stars to celebrate the highly anticipated Disney+ series.
Lead actor Samuel L. Jackson and Don Cheadle (both Academy Award nominees) were all smiles on the red carpet, along with Oscar-winner Olivia Colman, along with Cobie Smulders, Dermot Mulroney and "Game of Thrones" favorite Emilia Clarke. 
Bad guy Kingsley Ben-Adir (he's a Skrull) took a moment to discuss his upcoming project with TheWrap, a biopic on the legendary Bob Marley. Ben-Adir shared his dedication to portraying the iconic musician, explaining that the Marley family was on set to give insight into the life of the icon. "They were there every day, I saw Ziggy every day on set, they were all there, it was a mad experience."  – Elijah Gil
"Downey's Dream Cars"
Petersen Automotive Museum, Los Angeles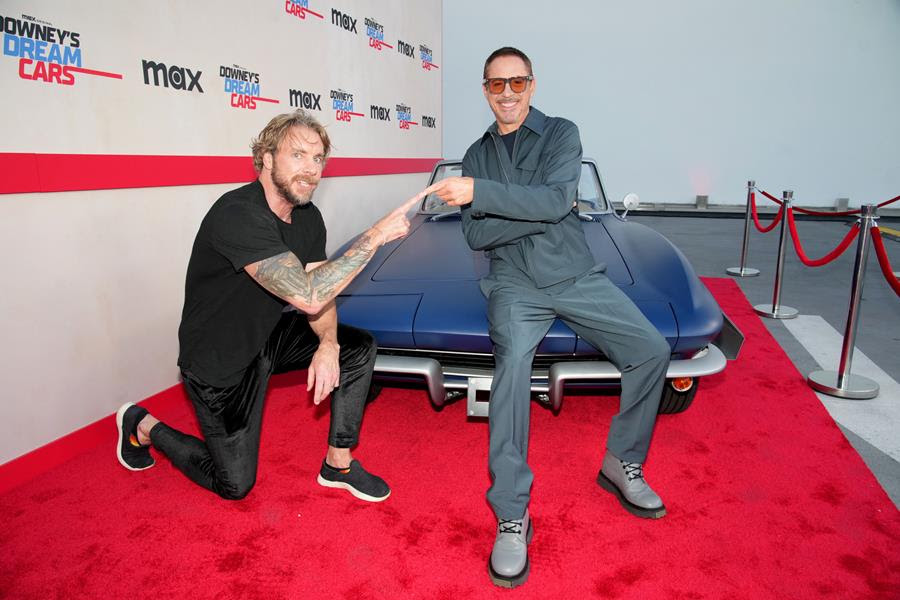 What do you do when you can do anything you want? If you're Robert Downey Jr, you set out to save the world, one car at a time.
Downey was in fine form at the Petersen Automotive Museum premiere party for his new Max series, "Downey's Dream Cars," arriving on the arm of his wife and Team Downey president, Susan Downey, he swept onto the scene and commanded the red carpet, laughing, philosophizing and "selling the soap" as he calls it. The reality series takes classic cars and transforms them into electric vehicles, while still keeping the original look.
We happened to be with Lino Bruni on the carpet, one of Downey's oldest friends from growing up in Santa Monica, who pointed out an obvious fact to Robert. "You've come a long way since Uncle Jim's Datsun B210," Bruni said with a chuckle.
"Oh man! Uncle Jim!" Downey exclaimed as the two embraced. "I went outside to Uncle Jim's car one morning. He had his finger through the ring of a glass jug of Almaden wine, with about a quarter inch of liquid left in it. I asked him, 'Hey Uncle Jim, whatcha doing?' He said, 'I'm just sittin' here getting down with my badass self.' He was supposed to drive me to school. I didn't make it that day!"
Inside the screening, Robert munched on carrots as Susan spoke about the "eco-mod" concept of the show and its world-changing ideas. She explained, "We want it to be entertaining, informative and compelling, but we also want to do something with deeper meaning. We have to change energy in this world right now, this is part of our Footprint Coalition mission."
Dax Shepard appeared for the post-screening Q&A, joking with Downey about their mutual love of motor vehicles of all types, then the after party we ran into Brigadier General Curt Taylor of Fort Irwin, who told us about the U.S. military's role in the show's first season, saying, "We are moving toward electric troop transport vehicles in the army and jumped at the chance to work with the production when they approached us."
Robert, Susan and Team Downey stayed late into the event, happily talking and joking with everyone who wanted to discuss the shows, the cars and their vision for a more sustainable future. – Jeff Peters
"The White Lotus" VIVID Conversation With Mike White and Jennifer Coolidge
ICC Aware Super Theatre, Sydney, Australia
Is "The White Lotus" heading to Australia to do a prequel to Season 2, so that Jennifer Coolidge can return to her Emmy, SAG, CCA-award winning role as Tanya McQuoid? That was the rumor swirling around the jam-packed ICC Aware Super Theatre in Sydney as Coolidge and show creator-director Mike White took the stage in front of 8,000 screaming fans as part of the VIVID Sydney 23-day celebration of all things creative.
We never got an answer to that burning question, but nevertheless got a raucously funny hour-plus of those two best friends who clearly love to work together, despite the fact that Jennifer was hesitant at first to take the job. "I said to my friend, 'There's no way I'm going to be wearing a bathing suit on the beaches in Hawaii!'" she recalled. "And she goes, 'They're not going to make you wear a bathing suit! You have to do this.'"
"I wrote it for her," White added, "That was part of the fun of doing it for me. If she had bailed, I would have literally dragged her by the hair all the way to Hawaii!"
The rest is history, and despite Mike White's admission that "I have never had a show that's gone more than two seasons, so I had it in my head that the second season, we'd go out with a bang [and it would be over]," he admits that he is "very sad" that he killed off Tanya at the end of Season 2. We're sad, too, and hope that this funny duo does find a way to do a "The White Lotus" prequel in Oz. But until then, as White reminded us, "There's a writers' strike on right now, which I support, of course. So we may not be doing anything for a while."
The American Ballet Theatre June Gala
Lincoln Center, New York
Manhattan's elite stepped into their freshly pressed tuxedos and floral gowns for the American Ballet Theater (ABT) June Gala, which launched the New York City premiere of the new ballet "Like Water for Chocolate" and honored Laura Esquivel, who wrote the novel. Mick Jagger danced his way into the bash, along with Katie Holmes, Misty Copeland, Wilson Cruz and many more lovers of the art.
As the curtain closed, actor Chris Lowell (who was so great in "GLOW") seated next to his partner, Kiwi actress Kerry Bishe, in the second row, squeezed her hand in excitement. "We typically go to the opera, but this is such a fun event," they told TheWrap. "It's our first ABT Gala."
Actress/dancer Julianne Hough also told us she was thrilled to be in attendance. "This is my second time at the ballet, and I'm so excited!" she gushed.
During the dinner reception, Hough and friends danced alongside Mick Jagger to DJ tunes by Abba and Avicii as everyone sipped their signature watermelon margaritas. No pressure there, dancing with Jagger and Hough! – Emily Vogel
Please send party and event invites to [email protected]