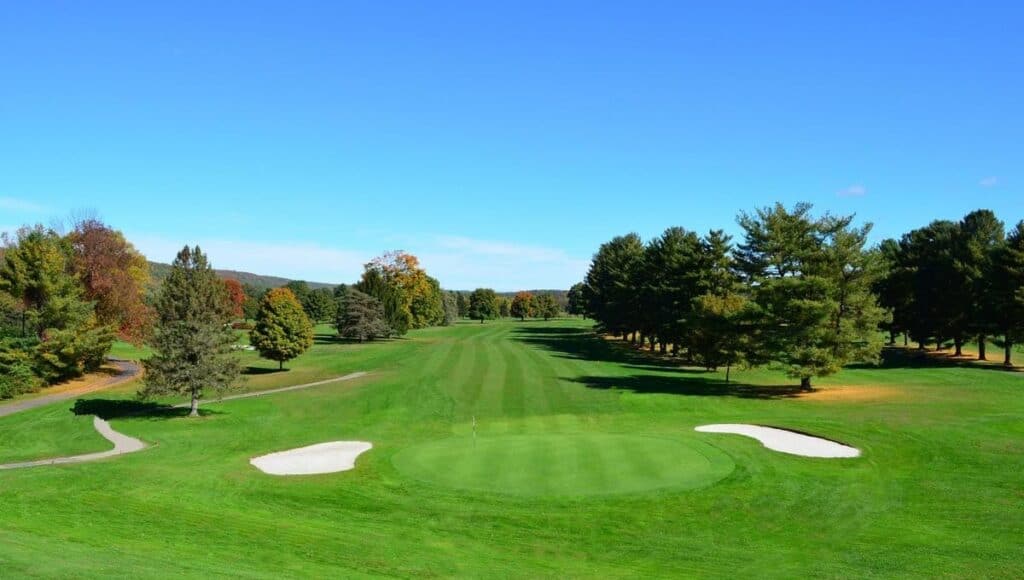 Legendary Golf Architect A.W. Tillinghast, designed the Lynx at River Bend Golf Club, in Port Jervis, pictured above
Whether you're a world-class golfer or a first-timer on the greens, Orange County, N.Y., has the ideal golf course for you. Many of them, in fact. "Orange County, N.Y. is the perfect destination for golfers of every level!" said Amanda Dana, Director of Orange County Tourism & Film. "With majestic scenery, golf-course designs by some of the masters and great dining opportunities, our premier courses are for anyone from champions to brand-new players. Spend a spectacular day on a favorite course or stay for a weekend at one of our gorgeous accommodations – and try out several locations."
Here are just some of the golf courses in Orange County:
Hickory Hill Golf Course, 25 County Park Lane, Route 17A, Warwick: This county-owned, 18-hole, 6,400-yard, par 72 golf course is in Warwick County Park. It features a pro shop, 15-station driving range and a grill room, bar and 120-seat banquet hall. Lessons are available. Golf camp is held for junior golfers ages 6 to 14.
Stony Ford, 211 Route 416, Montgomery: This county-owned, 18-hole, par 72 course in Thomas Bull Memorial Park is open from March to November. The course features a pro shop and 15-station driving range, restaurant, bar and 140-seat banquet hall. Lessons are available. 
Falkirk Estate Golf Club, 206 Smith Clove Road, Central Valley: The pristine 18-hole golf course is a great venue for your next tee time or outing. Golf pro and pro shop staff create an atmosphere of enjoyment and friendly competition. 
The Lynx at River Bend Golf Club, 87 Neversink Drive, Port Jervis: Designed by one of the greatest American golf architects, A.W. Tillinghast, the Lynx at River Bend Golf Club stretches over a secluded 125-acre site with the majestic Shawangunk Mountains as a backdrop. Constructed in 1915, the golf club is one of the oldest in the country. A state-of-the-art golf simulator helps you perfect your swing. 
Mansion Ridge Golf Course, 1292 Orange Turnpike, Monroe: The only public course in New York State designed by links legend Jack Nicklaus has been reinvigorated through an impressive enhancement project. Located on a historic 220-acre estate, the setting features landmark buildings predating the American Revolution. Experience superb dining in the 18th-century stone clubhouse restaurant. 
Wallkill Golf Club, 40 Sands Road, Middletown: The 18-hole course stretches over rolling terrain, amid trees and lagoons. The club also features a driving range and dining/catering facilities. Its junior golf camp is the perfect way to introduce youngsters to the sport. 
West Point Golf Club, Routes 9W and 218, West Point: This course, offers an 18-hole challenge on a mountain layout, with immaculately maintained terrain. The Robert Trent Jones-designed course is a great test for all levels of expertise, and is the home of the U.S. Military Academy's Army golf team. After your round, enjoy a variety of beers, great burgers, wraps and other fresh food. 
Visit www.OrangeTourism.org for more information.