This year, Harley-Davidson is celebrating 120 years of manufacturing the proverbial American cruiser motorcycle. On July 13-16 of 2023, there will be a massive homecoming in Milwaukee Wisconsin, with food, drinks and live performances. There's much to be celebrated for the bar and shield brand, and especially so in recent years, as their revolution max engine, and the motorcycle it was placed in, have become the toast of the adventure town.
But lest we forget, Harley is not just chromed out cruisers and boat-sized baggers. There is an illustrious history of cool motorcycles, weird choices and down-right innovation buried beneath the layers of nostalgia and American muscle mythology. And nowhere is that more apparent than at their massive, immaculately curated museum in the heart of Milwaukee. Appropriately surrounded by two different gift shops, the post-modern museum building houses Harley's prized collection of vintage models, racing bikes and other, lesser-known, yet no less fascinating motorcycles of note. You can get yourself a tour guide, and get a history lesson as you go from room to room filled with antiques, engines and gas tanks. Or have yourself a bespoke experience by simply wondering around with no real purpose. Either way, if you have even a smidgen of love for motorcycles, you're almost guaranteed a fantastic time walking through the halls that Harley-Davidson built from engine grease, sweat and sheer determination.
RELATED: All You Need To Know About The Harley-Davidson Homecoming Festival
American Motorcycle History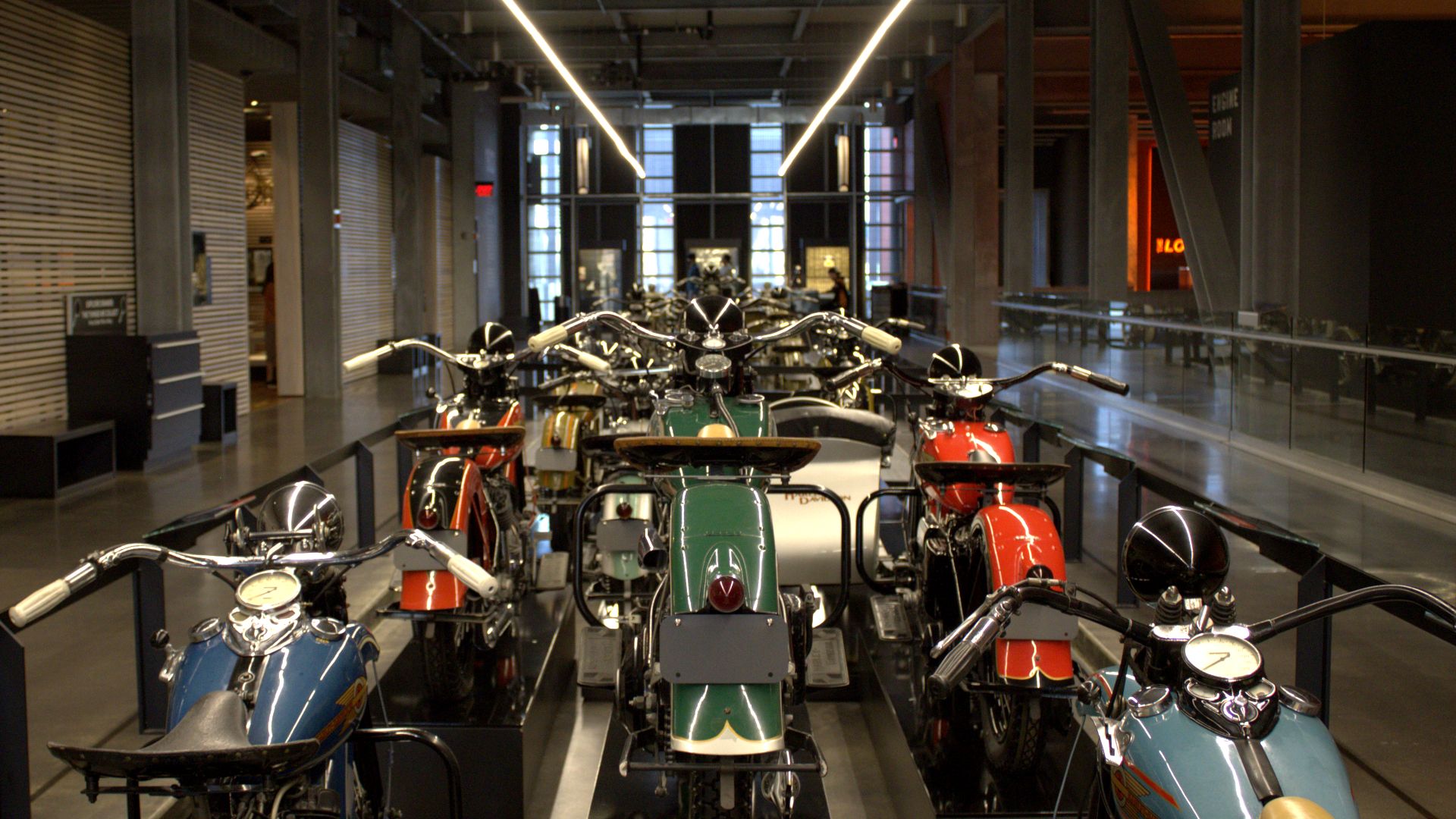 Rows of vintage motorcycles facing away from camera in museum.
Harley-Davidson has been making motorcycle since 1903. It is, along with Triumph and Royal Enfield, one of the oldest motorcycle brands on the planet. As you head up to the second floor of the museum to start your tour, you're greeted, almost immediately with the weight of that history and what it means. A long line of vintage Harleys stretches from one end of the building to the other. You could probably spend hours inspecting this collection of bikes if you weren't immediately compelled to enter one of the more interesting exhibits, which is the early history of the company. In the rooms that run parallel with the lineup of vintage bikes you'll see a true-to-scale size of the original shed where Harley-Davidson was born. Spoiler alert, it's tiny. Subsequent rooms move through the early years and into the bikes used in World War II. These exhibits are beautifully set up and are well annotated with relevant notes and information.
RELATED: Check Out This Harley-Davidson Enduro Motorcycle From The 70s
The Engine Room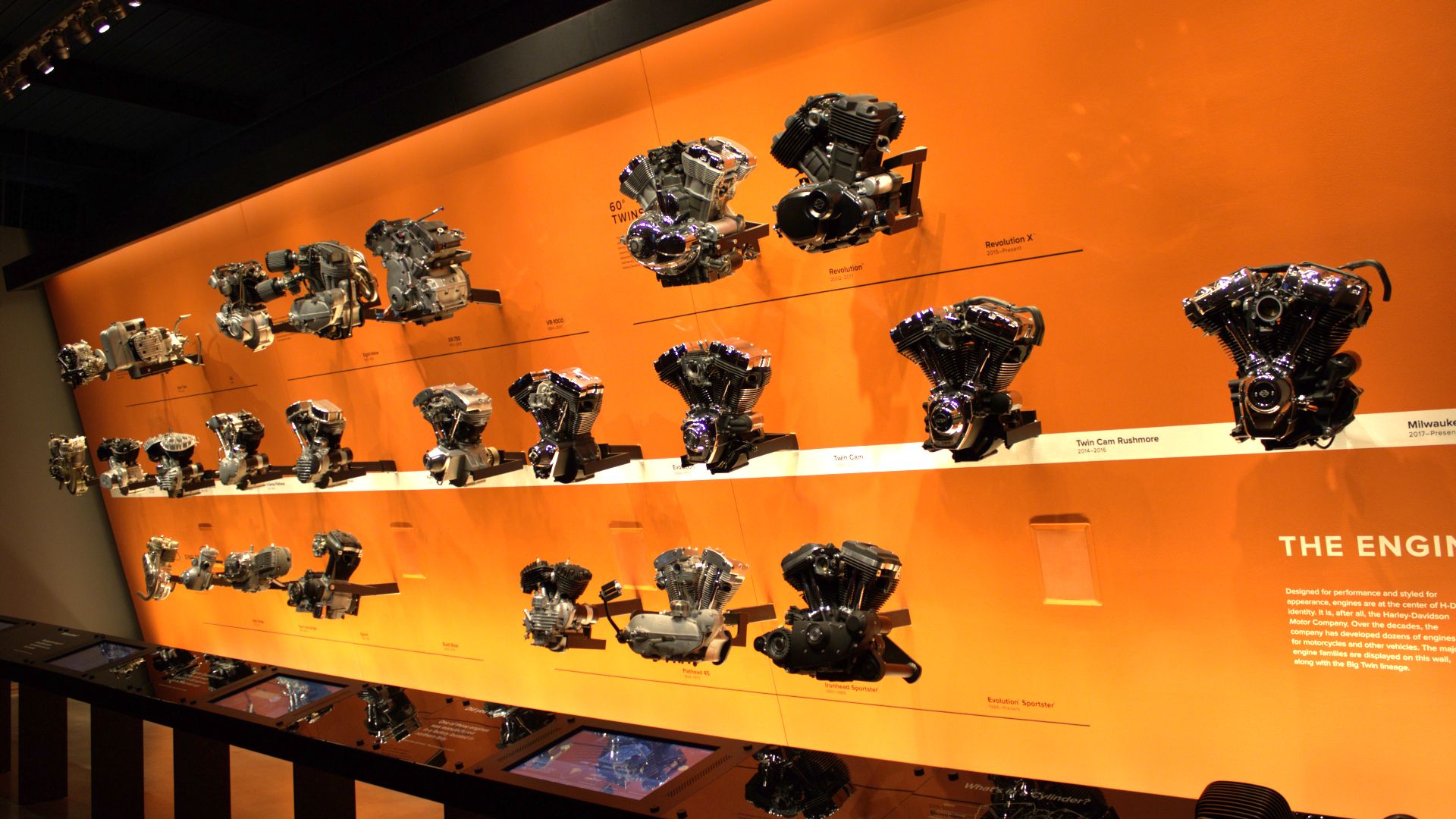 Motorcycle engines displayed in museum exhibit.
An exhibit that will surely speak to the gearheads in the crowd is the so-called 'Engine Room'. Not only is this room full of Harley engines, it also has interactive and experiential activities where you can see various parts and components in exploded views. You can also play the guessing game, by listening to various engine sounds and guessing if they're from a motorcycle or some other mechanical contraption. But the biggest draw of the room will be Harley's famous V-twins. They're all there, from earlier experiments to XR-750, Buell Blast, Evolution, Revolution and Milwaukee Eight. And at the center of the room is a sculpture that has to be seen to be believed. A fully disassembled motorcycle, with its parts positioned in such a way, that if you stand right in front of it, it appears to be a whole motorcycle. It's only when you begin your walk around it that you see that it's broken up into hundreds of pieces.
Harley's Racing Pedigree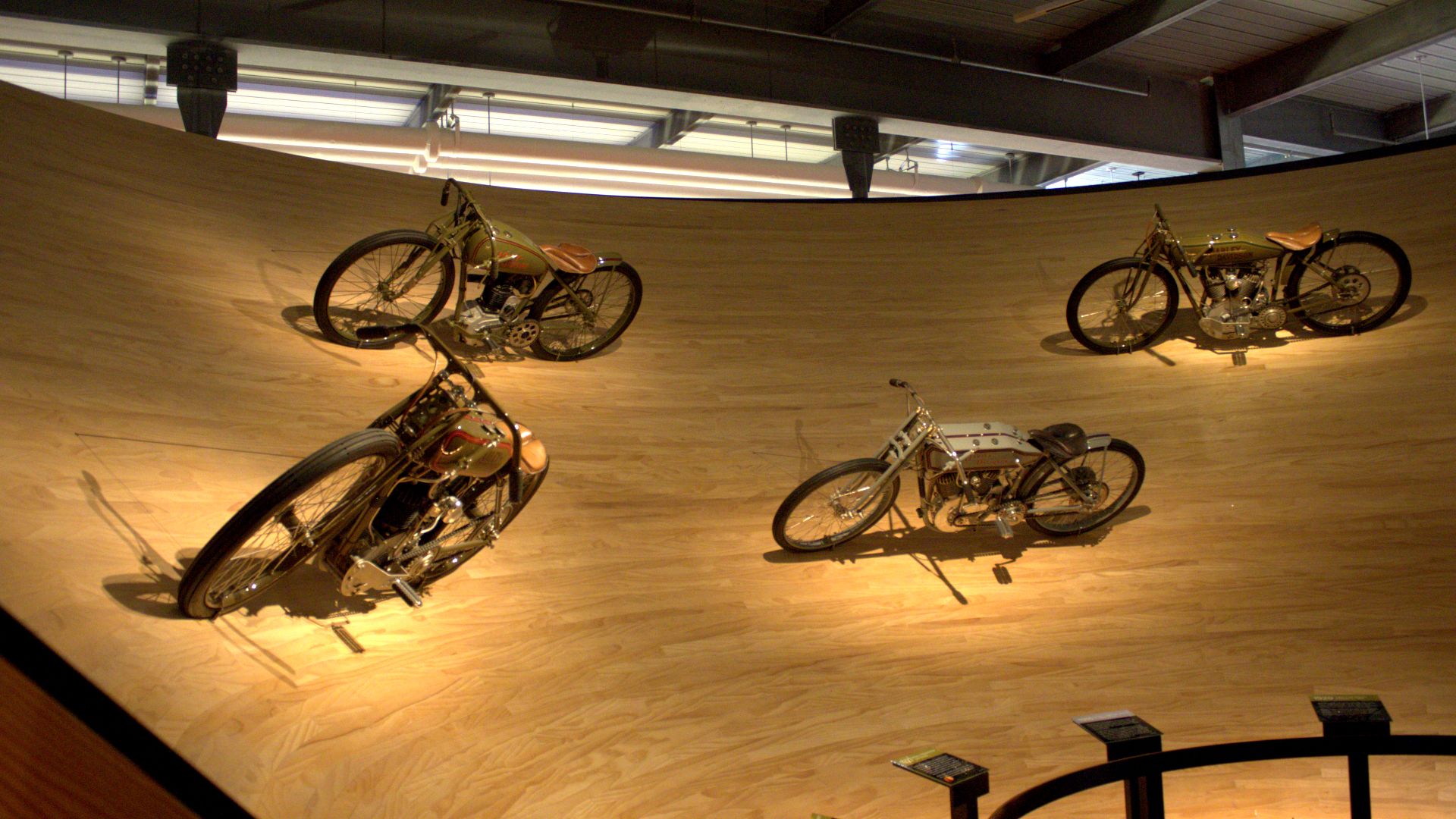 Motorcycles displayed on floorboard racing floor in museum.
The room that may come as a surprise to a lot of motorcycle enthusiasts is the Clubs & Competition exhibit. There you'll see full size motorcycles that were utilized by various clubs to race on board tracks, do hill climbs and participate in endurance races. Motorcycles outfitted with chains on wheels, sidecars and specialized racing parts are scattered throughout the large room. One display is dedicated to the 1936 El Factory Streamline OHV V-Twin, which broke the land-speed record in 1937, doing 136 miles per hour at Daytona Beach, Florida. Joe Petrali, at the suggestions of Williams Harley himself, set out to do the record-breaking run to promote the recently released "Knucklehead" engine. Joe Petrali was a member of the Harley-Davidson racing team, and had won the 350cc single-cylinder division in the previous years. He'd later become associated with Howard Hughes and his "Spruce Goose" airplane.
RELATED: Here's An Iconic Harley-Davidson Race Bike You Ought To See
The Gas Tank Exhibit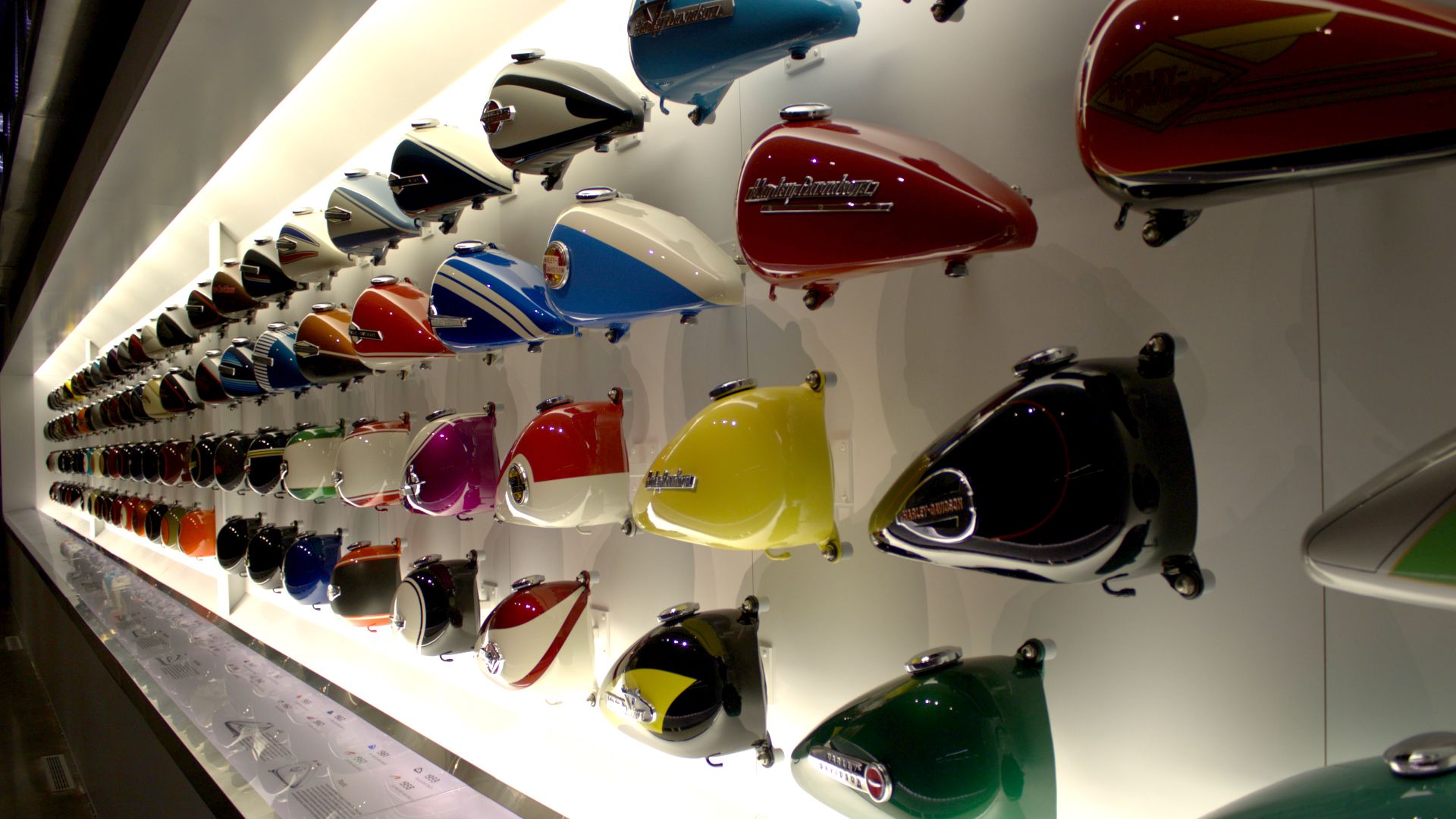 Motorcycle gas tanks displayed in museum exhibit.
To many riders, motorcycles themselves are a form of art. Especially when they've gone through some sort of unique, owner-based customization. But in fairness, motorcycles are utilitarian machines, meant specifically to be a form of transportation. They were built out of necessity. Though they are the perfect crossroad of engineering and design, true fine art they are not. About the closest thing that comes to it, however, is at the Harley-Davidson museum, located toward the back of the second floor. There you will find an installation that can truly be considered an art exhibit.
The colorful, shapely gas tanks that adorn this wall are a sight to be hold. Like hard candies in a jar, these teardrops entice the viewer to come closer and inspect their favorites at an intimate range. They're glossy, bright, vintage and modern all at the same time. And those visitors that came into the museum thinking they'll only be seeing motorcycles are in for a pleasant surprise as this wall of almost psychedelic colors seemingly goes on and on forever, as it leads them into other exhibits.
Long Way Up's Adventure LiveWire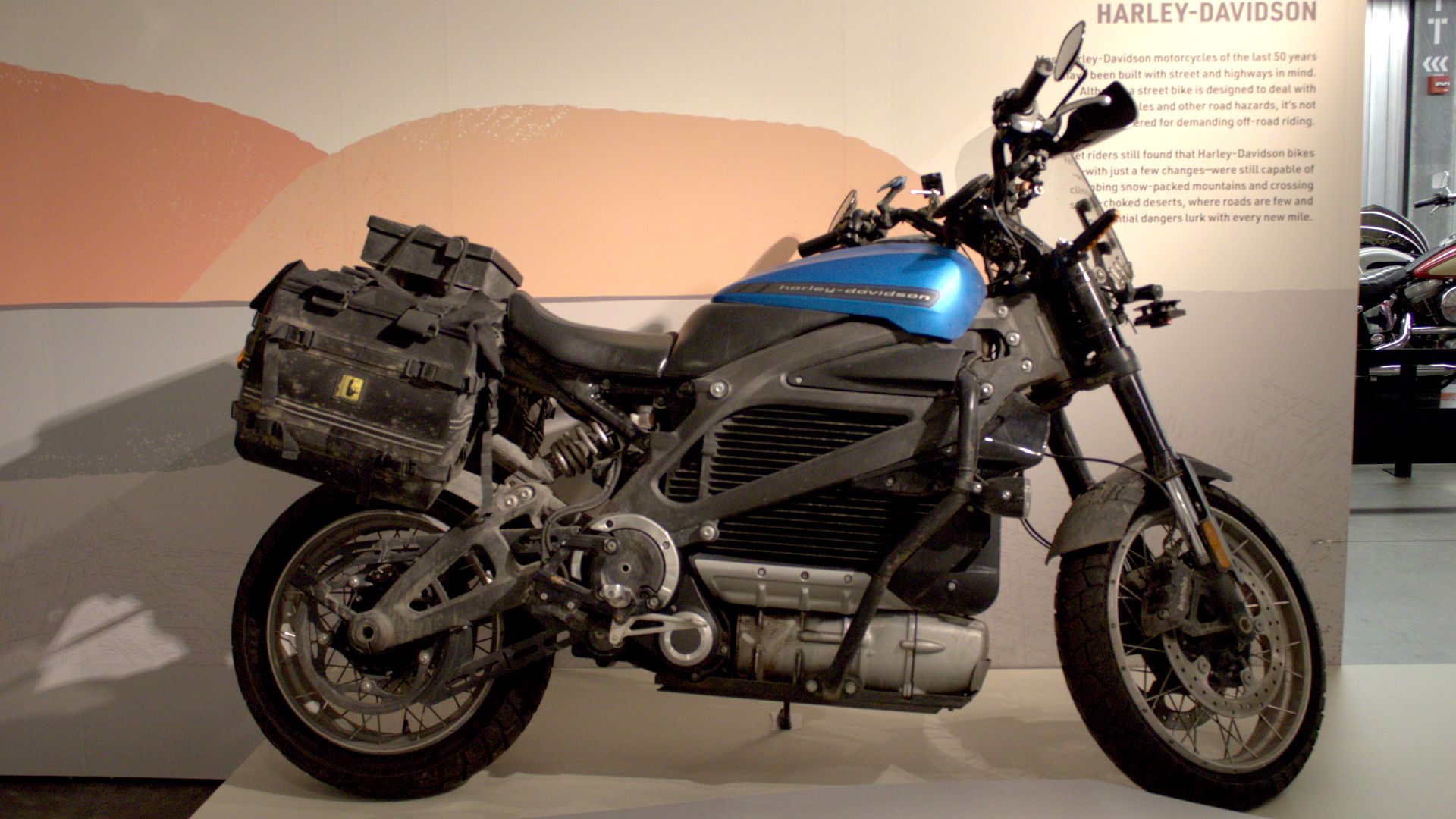 Electric adventure motorcycle standing in museum exhibit.
It's interesting to note what the actor Ewan McGregor means to various groups of people. That meaning shifts and moves depending on the group of fans. To majority of the world, he is Obi-Wan Kenobi from the Star Wars prequels and the recently released Disney+ show. There's another, albeit smaller group that may know him from more artistic films such as Trainspotting. An even smaller group will know him simply as Charlie Boorman's friend and fellow rider on The Long Way Round, Long Way Down and Long Way Up adventure motorcycle tv series. And while not single-handedly responsible for the growth of the ADV market, the success of those shows certainly had a big hand in pushing us to do weird things with bulky bikes on roads that weren't made for them.
The first series infamously showed KTM backing away from providing motorcycles for the two riders, to go through Europe, Middle East, Asian and Russia on their way to New York. The two were forced to settle for BMW's GS motorcycles. Maybe you've heard of those? When it came time to do the second tour, through Africa this time, the two once again chose BMWs. But the third series, taking the pair up through South America, is where things went a bit off-script as it was decided that electric bikes would be a more interesting choice.
RELATED: 15 Best Electric Motorcycles
At the time, there weren't too many reliable offerings. Until, that is, Harley reached out and provided modified versions of their upcoming electric LiveWire. They'd taken parts off the at the time still-in-development PanAmerica, fitted them to the LiveWire, and off the two went, followed by Rivian trucks. Whether electric motorcycles are viable adventure touring machines is a hotly debated topic to this day, and will be for the foreseeable feature. But McGregor and Boorman showed that it can be done, albeit with a support crew, Rivian charging station infrastructure and generators, all in the name of entertainment. One of those bikes, with dirt, damage and luggage, sits proudly at the Harley-Davidson museum. And on the other side of the room, waiting for its turn, is the PanAmerica, the actual motorcycle that is poised to take Harley-Davidson into the future.