Charlie Fischer, then 13, was riding his bike to Orchard Park Country Club in 2017, a week before his debut at the International Junior Masters after he had qualified for the first time.
Unfortunately, he fell and broke his wrist. In the days before the tournament, he tried to practice through the pain, shedding the cast at one point, but it proved to be too much and he withdrew. 
Officials gave him an exemption to return to the 2018 tournament, and he has qualified every year since. 
He will play in his fourth IJM this week after qualifying for six – the broken wrist and the pandemic caused him to miss two. 
"It probably really hasn't set in too much," Fischer said of competing in the tournament for the final time. "It'll settle in on Friday (the championship round)."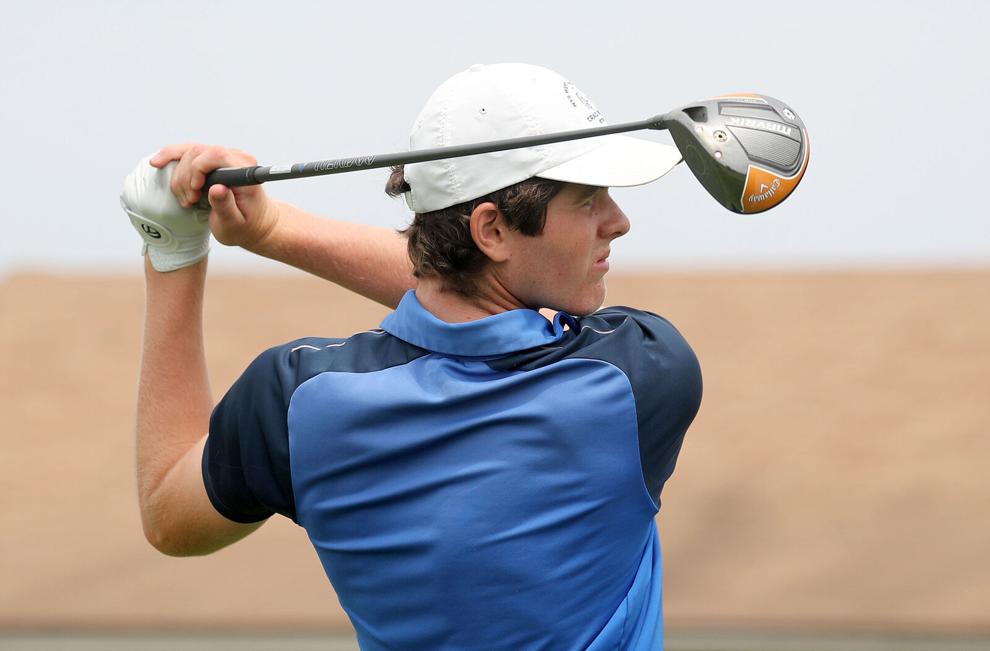 Charlie Fischer, a 16-year-old from Orchard Park High School, shot a 2-under par round of 68 Monday to share the top spot in the qualifier for the Porter Cup Invitational.
The IJM, the oldest junior invitational golf tournament in North America, begins its 70th edition Tuesday morning at East Aurora Country Club, Fischer's home course.
His love for the game started with his grandmother, who took Fischer and his brother to Harvest Hill Golf Course in Orchard Park when he was 4 years old, he said. Just like any other kid, he played other sports – such as baseball and soccer – but got hooked on golf after practicing at Harvest Hill for a few years.
By 9 years old, he quit his other sports and became a member at East Aurora.
"That's really where I truly, really fell in love with the game," Fischer said. "I was raised on the golf course, so it kind of felt like a second home."
Fischer preferred the individual aspect of golf and relying on himself as the main reason why he wins or loses. He can take ownership for everything, he said.
He has developed a strong resume over the years, competing in the Hurricane Junior Golf Tour, one of the largest junior tours in the country. He also has played in junior events through the New York State Golf Association and was named the 2020 WNYPGA Junior Player of the Year. He also won a pair of Buffalo District Golf Association Boys Junior Stroke Play Championships.
"That's what's really been able to kind of keep me getting in these IJM's," Fischer said. "You really got to work hard for it, and I'm proud to say that I have. Qualifying for this tournament is a little bit easier than it was when I was 11 or 12."
Fischer has been watching the IJM for at least 10 years, he said, adding that he fell in love with the tournament even more when he had to watch because of his broken wrist. 
He said there's a little pressure playing in a course he's so familiar with, but added that "pressure is a privilege," having the opportunity to qualify for the IJM for many years.
And though East Aurora CC is his home course, it is more special to him that the tournament brings some of the top junior golfers from across the globe. This year's boys field consists of players from nine countries, including Australia, Peru, Thailand and China. Sri Lanka will be represented for the first time by Nerikh Tejwani, the country's amateur champion.
One of the first things people notice entering the country club are the flags of the countries that are represented. The second thing is the accents, Fischer joked.
"You don't realize how big the world really is until you're around these people of different cultures and accents and backgrounds," Fischer said. "You get to learn so much about them through this one activity of golf."
Fischer said he hasn't left the country, but for him and other local players, the tournament is a way for them to see the world, he said. Playing in the IJM has given Fischer the thought that maybe one day he'll visit Australia, Thailand or Egypt, because he's heard of his competitors' experiences. East Aurora CC even has a reciprocal club in Australia, Fischer said.
"I just want to go into it like I've gone in every year, just trying to meet the guys from across the world, show them my golf course, show them our area," Fischer said. "It is my last one and it stinks, but it's also bittersweet."
In his IJM finale, Fischer hopes to see himself playing in the championship flight Friday. Last year, he just missed out, but finished second in the platinum flight. It'll be one of the final few tournaments in his "backyard" before he moves to Macon, Ga., to play for Mercer in the fall.
"No matter what tournaments I've played, how big they are, the first tee shot in the International Junior Masters is the most nerve-wracking shot I will ever probably experience," Fischer said.
The event is medal play Tuesday and Wednesday. The top 16 boys will advance to the match play Championship flight, beginning Thursday at 7:30 a.m. Winners will play in the quarterfinals Thursday afternoon, with the semifinals teeing off Friday morning. The final is set for Friday afternoon.
The remaining golfers will be placed in platinum, gold, silver and bronze flights, based upon their scores in medal play, and will also begin match play Thursday. 
The girls division begins medal play at 10:30 a.m. Tuesday and will move to match play at noon Thursday.