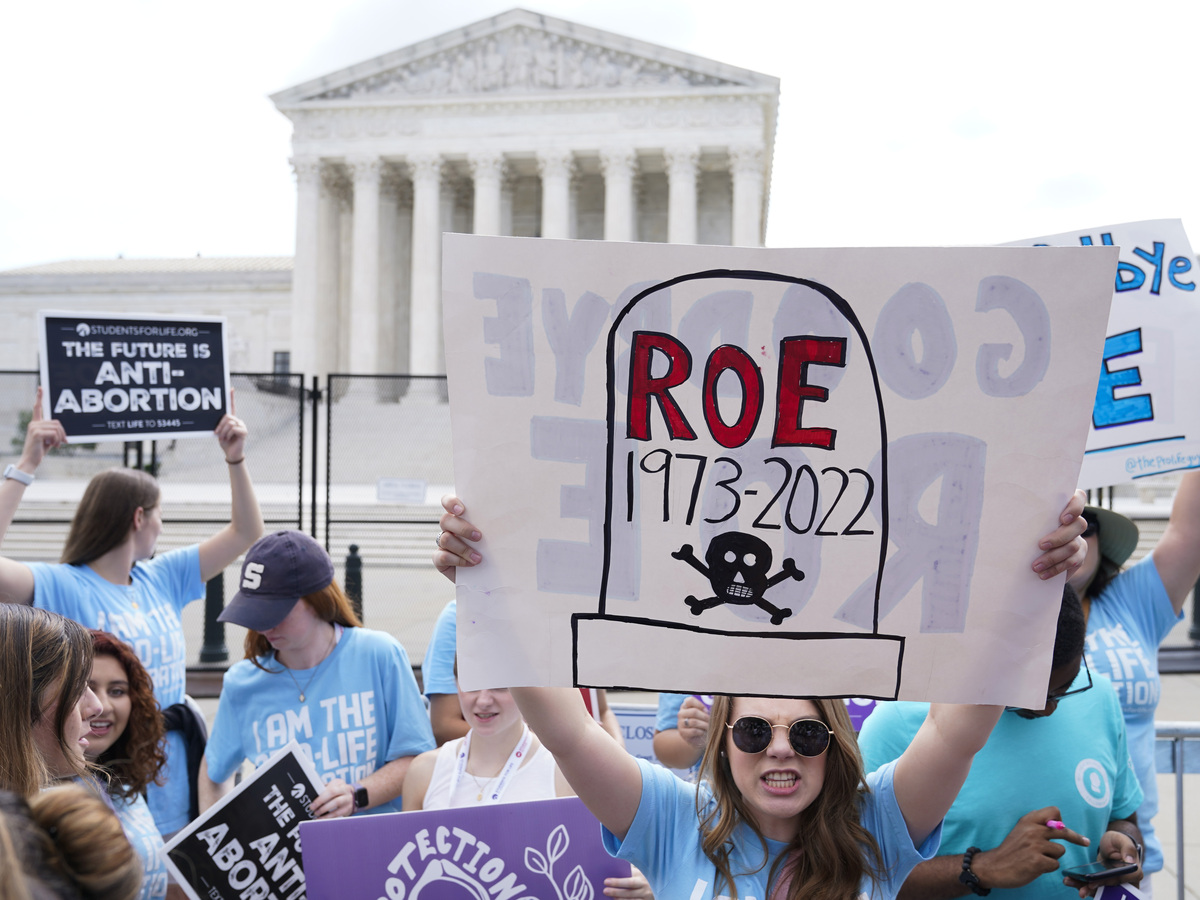 One year after the Supreme Court overturned Roe v. Wade, putting an end to the constitutionally protected right to access abortion, the health care landscape has become increasingly fragmented and complex to navigate, spawning widespread confusion.
So far, more than a dozen states have enacted extremely restrictive abortion bans, with the majority making no exceptions for rape or incest. And many more are waiting on legal challenges to make their way through the courts. In Texas, private citizens can sue abortion providers and those who assist patients seeking an abortion after about six weeks of pregnancy.
That has left approximately 22 million women, girls and other people of reproductive age now living in states where abortion access is heavily restricted or totally inaccessible. In the nine months following the Supreme Court's decision in Dobbs v. Jackson Women's Health Organization, abortions with providers fell by a monthly average of 2,849 compared to April 2022, new data collected by the Society of Family Planning shows.
With individual states empowered to ban abortion, some health care professionals say they are trapped by poorly drafted laws that criminalize care and fail to consider how women and other pregnant people might inadvertently be affected, including those who had not planned to terminate their pregnancies.
Doctors feel trapped by vaguely written bans
"States that have banned abortion are also threatening the health and well-being of people with wanted pregnancies who face obstetric emergency," Kelly Baden, vice president for public policy at the Guttmacher Institute, told NPR.
"Doctors and hospitals do not know how to operate, or [they're] operating under a really dark cloud of suspicion and hostility," Baden added.
Half of the doctors in states with abortion bans say that they have patients who have been unable to obtain an abortion, according to a national KFF survey of OBGYNs released Wednesday. About 40% reported facing constraints on their care for miscarriages and pregnancy-related emergencies. Meanwhile, 61% of those practicing in states with abortion bans express concerns about legal risks when making decisions about patient care.
And a majority of OBGYNs say they believe that the Dobbs decision has also exacerbated pregnancy-related mortality, racial and ethnic inequities in maternal health and made it harder to attract new OBGYNs to the field.
Dr. Loren Colson is one of only about a half-dozen maternal fetal medicine physicians still remaining in Idaho. He described the scene across the state as one of "complete chaos."
Idaho has implemented a ban on abortion beyond six weeks — often too early for a person to know they are pregnant. Exceptions can be made if the mother's life is in jeopardy. "But there's been a huge question of what that means," Colson told NPR.
Colson, who has testified before the Idaho House of Representatives on the issue, said the law is written so vaguely that there is no common understanding between lawmakers and doctors of what constitutes a life-threatening situation.
"We think that they know where that line is, when it has come down to it," he said, "but when the idea of jail time is on the table, everyone gets confused."
Colson, like numerous other physicians around the country, is calling on legislators to include more precise medical language in the bans that have been enacted.
There's widespread confusion about abortion laws
Another KFF survey published last month revealed that there is broad uncertainty around the legal status of abortion among the general population. In the states where abortion is banned, about 1 in 8 residents incorrectly believes that medication abortion is still legal there. And more than half of residents say they are unsure of the legality of abortion in their state.
In the wake of the Dobbs decision, some states have passed protective legislation with the aim of expanding access and protecting providers. In all, 17 states and the District of Columbia have laws protecting abortion. And over the last 12 months, at least 15 municipal and six state governments allocated nearly $208 million to pay for contraception, abortion and support services for people seeking abortions, according to data provided to NPR by the National Institute for Reproductive Health.
The funding, which has shot up from approximately $55 million since 2019, allocates money for abortion funds and support networks that provide financial assistance to people struggling to pay for procedures, travel and other associated costs.
Abortion will be a key issue in 2024
Politically, the Dobbs decision has mobilized both parties, and politicians are counting on the issue to bring voters to the polls in 2024. Republicans, backed by anti-abortion groups including Susan B. Anthony Pro-Life America, are seeking to codify a 15-week ban nationwide.
Democrats have also galvanized around the rollback of Roe. They are warning voters that Dobbs is only the first of future attempts to limit people's autonomy over their own bodies and health care, including contraception and LGBTQIA issues.
NPR's Sarah McCammon and Selena Simmons-Duffin contributed to this story.